S
omething you rarely see in street or
fine art photography
is humor. Walking through galleries, I've marveled at the work of photographers who, for all their skill and artistry, have no sense of humor.
Humor may be in short supply these days with all the blue/red social tensions around. On television, producers still think we need prerecorded laugh track to tell us when a joke has been delivered. Subtlety in mass media is missing. Even the sweetness of comics pages has been sacrificed.
But all is not lost. At least in a place where humor is almost always absent, fine art
street photography
, I can show you that a publicly good sense of humor is still possible with meanness or what we used to call obscenities but take in stride as just the way things are, these days.
Getting a Smile in Urban Photography
Everyone's a Critic
, shown above, makes its mark as fine art. The gentle colors of nature on an autumn afternoon in
Central Park
are accented by a batch of white balloons and the costumes of visitors along a path. One costume catches your eye.
A woman mounts a pedestal, a human statue posing as a butterfly or maybe an angel. A strategically placed bucket waits for tips.
The humor in this beautiful image may take a moment to sink in, so rich is it with color, but take a look at the three girls out in the park with their dads. What thoughts entered their minds to cause those looks?
It's not meant to be comical but the irony of those looks, reacting the what they see, always makes me smile.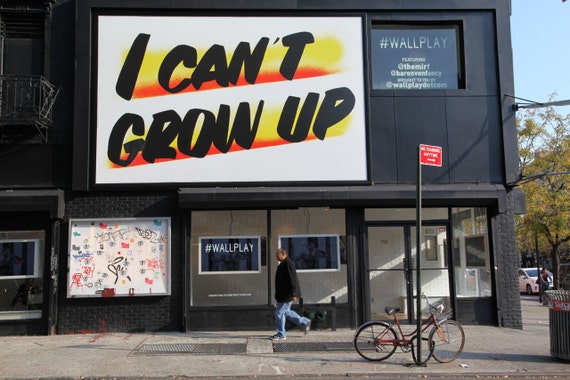 I Can't Grow Up / Street Photography by Deborah Julian
It may be angst. Tom Waits
has a great song titled I Don't Want To Grow Up, and you can imagine a defiant, "I won't grow up." I can't is another story.
I Can't Grow Up is a relief, a comic acceptance of the facts. We all feel like that sometimes, don't we? The world's too big, our ambitions too small or you just throw up your hands.
I like the way this composition shapes out, a linear expression of the city. It's plain simple, funny and truthful.
This fun photograph from
Bologna, Italy
, is the kind of picture you will never see again. It's just so unusual. A fashionably dressed young woman walks in the brick paved street, a tall cactus at her side.
Surprise is a better generator of humor than pain, although pain is probably more popular. This woman could be carrying groceries, flowers, a child. Instead, it's a thorny plant with which she walks easily along.
Conclusion
Humor doesn't have to rely on the predictable meanness that fuels most television comedies. Cruelty or pain are not required. In fine art street photography, the elements so common today would probably sink it. To fit, the picture must be refined, artistic and smile-worthy without a laugh track.
Click here for more of more Deborah Julian's street photography.
Do you have any favorite humor in art you can share?